We Just Want Her Home!
$18,750 of $100,000 raised
raised by 413 people in 1 year
Donate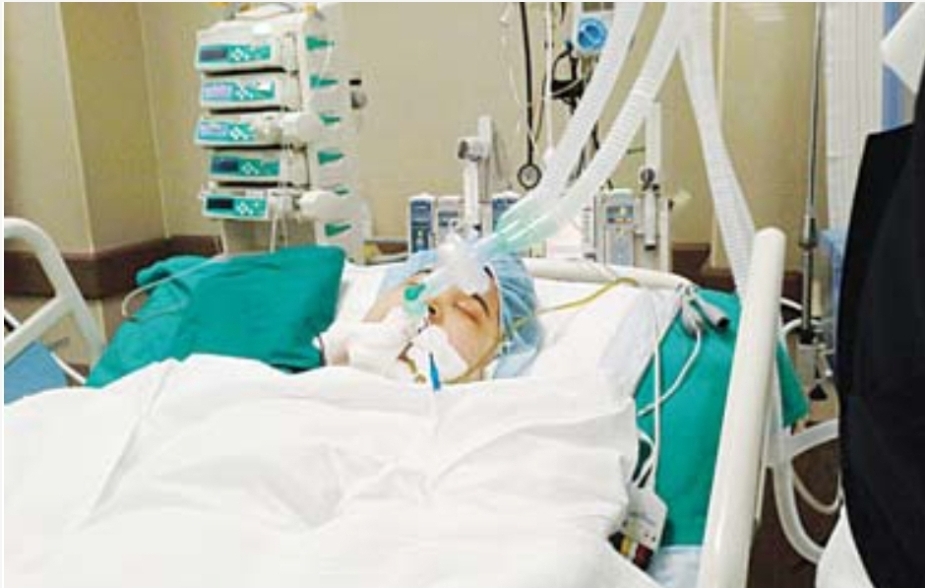 בסייעתא דשמיא 
חודש שבט תש''פ
February 2020
טייערע הארציגע אידישע ברידער
My honorable brethren,
I am writing this letter with a broken heart. Many sleepless nights passed before I dared to put my feelings in writing.
I am a mother of children who is very ill. It all started a few years ago. I had a simple virus, and my body went into septic shock. All my organs shut down; I was not amongst the living. I miraculously survived, B"H. But my life since then has been anything but simple.
The past few years, I went through many many surgeries, And it so happened that every surgery came with complications. if there were awards for people with the most physical pain, I would come in first place with flying colors. I've suffered two strokes. I have spent a few summers in the hospital and in rehabs, while there I was unable to give my children the love they so much needed. Just Recently I spent 8 weeks away from my family in another treatment.
I am in and out from the hospital for procedure's or for therapy. sometimes i feel like I live in the hospital. I am constantly in pain, and sometimes I feel that my middle name is "Pain." My husband helps me in every way he can, takes care of our children, takes me to the Hospital & doctor's appointment, and works in a retail store trying to make ends meet. However, because of him taking off so much time from work, he does not bring home as much. It hurts my husband deeply to see me suffering terribly. 
I recently had two surgeries out of town by a big doctor. My Husband constantly flew back and forth alternating between caring for me and caring for our innocent children. The bills alone from the tickets & the expenses is huge which we can not handle. The bills have kept piling up throughout the years, a mountain which I have no idea how we'll scale. And unfortunately I can't sleep at night... or I cry myself to sleep. The financial pressure is crushing, and we are on the brink of collapse. Being disabled making it unbearable to cope. There are times that we can't put food on the table to feed our children, pay utility bills, rent & tuition, because all the money is going to my medical expenses. We still have so many old bills to pay & we are in debt of more then $100,000.00 My husband runs from Gemach to Gemach to pay debts, and just recently took out a big loan that we have to pay back very soon.
There are many more medical issues that are ongoing, which i can't specify because of ethical reasons.
We are collapsing from all this pressure and our children are suffering greatly. Anyone who donates to this campaign will not only be saving my life, but our children's as well, you'll be giving them back their futures!
Please have an open hand and heart and help us. In return, may Hashem, in His infinite mercy, bless you all with life, health, and every kindness and may you always be Zoche to be on the giving end!
Rachmonim Bnei Rachmonim רחמנים בני רחמנים,
I desperately need your love, support & help, now more than ever. Please, Please, please give generously.
It is a beautiful thing when one person helps another... please reach into your loving pockets.....
Helping someone to stand on her own feet ... The Rambam says this is the highest Mitzvah.
Please Donate Now, If you can't, at the very least share this campaign, so others may help.
You will not regret having taken part in this incredible mitzvah.
I would appreciate it so so so much.
Thank you from the bottom of my shattered heart.
please be so kind and share this campaign with family and friends.
With all of Klal Yisroel being my closest Family - I Personally reach out to you who always impress with it's Kindness amd unity!
Tizku l'mitzvos! תזכו למצוות!!!!!
Tzippy
דער אייבערשטער זאל העלפן אז אין זכות פון די מצוה זאלט איר געבענטשט ווערן בכל מילי דמיטב נחת דקדושה ביי אייערע קינדער געזונטערהייט באין מחסור כל, אמן
ואני תפילה, שבשכר המצווה הגדולה תזכו לשפע ברכה והצלחה, ולגדל צאצאיכם לתורה ולחופה ולמעשים טובים מתוך נחת והרחבת הדעת, ולחיים טובים ארוכים ומתוקנים בבריאות הגוף והנפש, ולכל הברכות והישועות והנחמות, וכל טוב וטוב. עדי נזכה לביאת גואלנו ושמחת עולם על ראשינו בב"א
;
$18,750 of $100,000 raised
raised by 413 people in 1 year
Donate
Created by
ben tailor
October 2017
Contact this campaign
TELL OTHERS To GIVE!
Donations
Menachem Lezer donated
2 days ago
$3.00
Anonymous donated
2 days ago
$18.00
Melissa And Joseph Kalinsky donated
2 days ago
$100.00
In memory of Naftali hirtz Ben avraham
Anonymous donated
3 days ago
$150.00
Miriam Leah Schwartz donated
3 days ago
$18.00
In memory of Reuven Tzvi Ben Menachem Yitzchak, zt"l
Sheila Rimmer donated
3 days ago
$25.00
Lee S Weinblatt donated
3 days ago
$100.00
Anonymous donated
3 days ago
$54.00
Miriam Richman donated
3 days ago
$50.00
Anonymous donated
3 days ago
$54.00
Jackie Kramer donated
3 days ago
$5.00
Ron Sivan donated
3 days ago
$25.00
Anonymous donated
3 days ago
$18.00
Anonymous donated
2 months ago
$5.00
Anonymous donated
4 months ago
$100.00
Anonymous donated
4 months ago
$8.00
Sheila Nashofer donated
4 months ago
$18.00
In memory of HaRav Moshe ben HaRav Yitzchak Yaakov on his 39th Yahrtzeit
Honey Schick donated
4 months ago
$36.00
Anonymous donated
4 months ago
$10.00
Anonymous donated
4 months ago
$10.00
Anonymous donated
4 months ago
$18.00
In memory of Eliyahu ben Mendel Moscowitz, zt"l
Anonymous donated
4 months ago
$36.00
Theo Brandtsarif donated
4 months ago
$36.00
Anonymous donated
4 months ago
$8.00
Menachem Lezer donated
4 months ago
$3.00
Anonymous donated
5 months ago
$36.00
Yoely Weinberger donated
5 months ago
$100.00
In honor of Duvid Goldhirsch
Shaya Walter donated
5 months ago
$200.00
A Giteh Breeder donated
5 months ago
$1,000.00
Manny Pollak donated
5 months ago
$10.00
Anonymous donated
5 months ago
$10.00
Anonymous donated
5 months ago
$18.00
Wendy Shindler donated
5 months ago
$36.00
א ווארעמער איד donated
5 months ago
$1,000.00
In honor of די רבי זכר צדיק וקדוש לברכה
Aron Yeshooah donated
5 months ago
$52.00
נכד הבעל שם טוב donated
5 months ago
$1,000.00
Sara Flegmann donated
5 months ago
$36.00
Anonymous donated
5 months ago
$100.00
Anonymous donated
5 months ago
$5.00
Anonymous donated
5 months ago
$36.00
Menachem Lezer donated
5 months ago
$3.00
Theodore Brandtsarif donated
5 months ago
$90.00
Sheila Nashofer donated
5 months ago
$50.00
In honor of Aliza Yedida bas Esther Zelda
Jana Fried donated
5 months ago
$36.00
Eileen Smith donated
5 months ago
$50.00
YD Friedman donated
5 months ago
$7.00
Ira Leifer donated
6 months ago
$18.00
In honor of Eliyahu Leifer an Tehilla Leifer
Anonymous donated
6 months ago
$18.00
In memory of Eliyahu ben Mendel Moskowitz, zt"l
Malki Schwartz donated
6 months ago
$18.00
Anonymous donated
6 months ago
$12.00
Eli W. Schlossberg donated
6 months ago
$25.00
Anonymous donated
6 months ago
$52.00
In honor of Shalvah
Anonymous donated
6 months ago
$52.00
Anonymous donated
6 months ago
$100.00
Larry Gevirtz donated
6 months ago
$10.00
Anonymous donated
6 months ago
$10.00
Anonymous donated
6 months ago
$10.00
Sidney Katz donated
6 months ago
$10.00
Anonymous donated
6 months ago
$1,000.00
Sid And Sharon Lerner donated
6 months ago
$18.00
Anonymous donated
6 months ago
$18.00
Anonymous donated
6 months ago
$36.00
Richard Greenberg donated
7 months ago
$18.00
Anonymous donated
7 months ago
$36.00
In honor of Bechori family
E Zinberg donated
7 months ago
$200.00
Esther Lustig donated
7 months ago
$18.00
In honor of Ggggg
Anonymous donated
7 months ago
$10.00
Jackie Shamir donated
7 months ago
$36.00
Anonymous donated
7 months ago
$10.00
Craig Wolpert donated
7 months ago
$18.00
S donated
7 months ago
$18.00
Anonymous donated
7 months ago
$28.00
Anonymous donated
7 months ago
$10.00
Naftali Hisiger donated
7 months ago
$18.00
In honor of Naftali Hisiger
Anonymous donated
7 months ago
$10.00
Anonymous donated
7 months ago
$360.00
Sara Flegmann donated
7 months ago
$36.00
Anonymous donated
7 months ago
$36.00
Anonymous donated
7 months ago
$36.00
Anonymous donated
7 months ago
$90.00
Anonymous donated
7 months ago
$7.00
Anonymous donated
7 months ago
$36.00
Anonymous donated
7 months ago
$10.00
Anonymous donated
7 months ago
$25.00
Jon Becker donated
7 months ago
$1.00
Anonymous donated
7 months ago
$3.00
Anonymous donated
7 months ago
$18.00
Anonymous donated
7 months ago
$36.00
Esther C Blashka donated
7 months ago
$18.00
Sarah Maman donated
7 months ago
$36.00
In memory of Yosef Yitschak ben Eliyahu
Anonymous donated
8 months ago
$18.00
In memory of HaRav Moshe ben HaRav Yitzchak Yaakov and HaRabbonis Alta Chana bas Asher Zelig Halevi
Anonymous donated
8 months ago
$300.00
Anonymous donated
9 months ago
$5.00
Anonymous donated
9 months ago
$100.00
Anonymous donated
9 months ago
$72.00
In memory of Emunah Shira bas Shlomo
RF donated
9 months ago
$10.00
Anonymous donated
10 months ago
$10.00
Anonymous donated
10 months ago
$80.00
In honor of Rachel
Anonymous donated
10 months ago
$18.00
In honor of Rivkas
Yitz Twersky donated
11 months ago
$100.00
+ See more

Free Fundraising for Jewish Causes
0% Commission
Easy 3 Minute Set Up
24/6 Customer Service
Start Your Campaign Now
0% Commission
Easy 3 Minute Set Up
24/6 Customer Service