ESTY'S FUND: Please Help Us Escort a Sick Kallah To Her Chuppah!
$9,274 of $20,000 raised
raised by 302 people in 1 year
Donate
Verified campaign
Campaigns bearing the verified badge have submitted documents testifying legitimacy of their cause. The Chesed Fund has vetted these documents as authentic.
Two young Jewish people are struggling, during a time that should be happy.
Esty has been ill since she was just 10 years old. Her health issues have made shidduchim a difficult and painful process.
Her chassan, Eli, is a baal teshuva and in many ways on his own in this world. His dream is to marry Esty and have a home & family based on Torah mitzvos. 
However these two brave young people have a major obstacle in their way: The kallah's family is very poor, and have already put most of their money since Esty's childhood toward her medication. With no family on the chassan's side, it is on them to provide their children with what they need for a wedding and to start a home. Unfortunately, they simply don't have it. It is painful for all involved.
PLEASE! If you believe that Esty & Eli deserve a chance, to build a bayis ne'eman b'yisroel with dignity instead of suffering, donate here toward Esty's hachnasas kallah!! 
A letter from Rav Nussbaum shlit"a, and other rabbanim:
""I know this family personally, and the kallah struggles each day with her disease. It is a great mitzvah to help her to marry. And all who help should be blessed to see no disease in their home." [read more below]: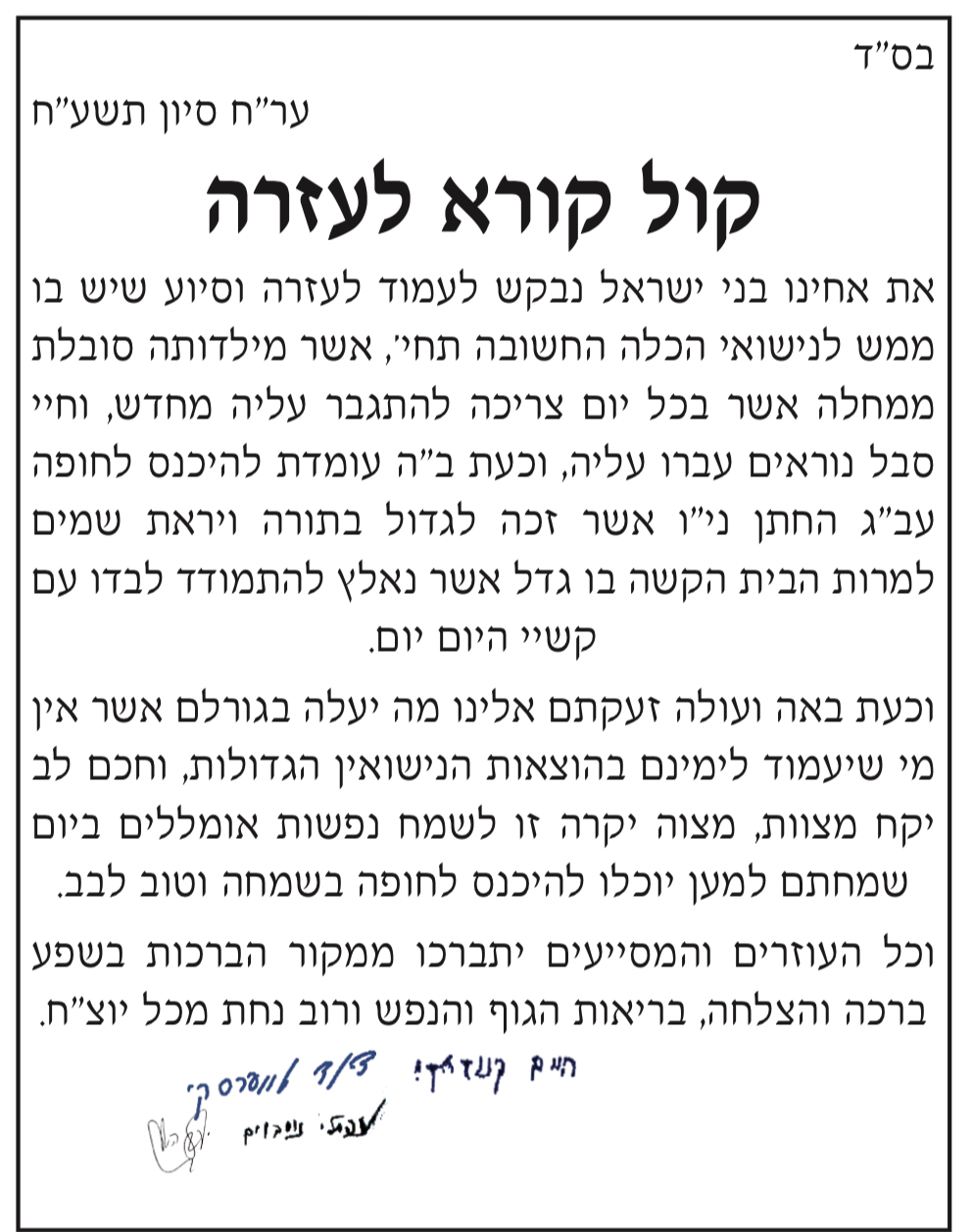 The chassan & kallah, and the Rav, thank you for your help.
Donations are tax deductible.
;
$9,274 of $20,000 raised
raised by 302 people in 1 year
Donate
Created by
Vaad HaRabbonim
June 2018
Contact this campaign
TELL OTHERS To GIVE!
Donations
Joseph Gold donated
1 year ago
$2.00
Pinchas Winograd donated
1 year ago
$7.00
In memory of Yudka Etka bas Yitzchak Yerucham
Shirley Pinczewski donated
1 year ago
$2.00
In honor of Chil Pinczewski
Anonymous donated
1 year ago
$5.00
Anonymous donated
1 year ago
$54.00
Esther Edelson donated
1 year ago
$60.00
In honor of Fala bas Etta
Anonymous donated
1 year ago
$10.00
Tzippy Zager donated
1 year ago
$18.00
Anonymous donated
1 year ago
$10.00
David Weissman donated
1 year ago
$10.00
Anonymous donated
1 year ago
$18.00
Anonymous donated
1 year ago
$2.00
Susan Shalem donated
1 year ago
$18.00
In honor of Elie Samet, for a shidduch
Anonymous donated
1 year ago
$6.00
Anonymous donated
1 year ago
$10.00
Gitty Braun donated
1 year ago
$5.00
Anonymous donated
1 year ago
$10.00
In honor of moshe boruch ben avrohom
Lazer Glass donated
1 year ago
$36.00
Miriam Baras donated
1 year ago
$50.00
In honor of Chaim Shneur Zalman ben Miriam
Anonymous donated
1 year ago
$10.00
Anonymous donated
1 year ago
$5.00
Anonymous donated
1 year ago
£15.00
Anonymous donated
1 year ago
$54.00
Anonymous donated
1 year ago
$13.00
Anonymous donated
1 year ago
$18.00
Anonymous donated
1 year ago
$100.00
In honor of Aliza miryam
Anonymous donated
1 year ago
$10.00
Anonymous donated
1 year ago
$5.00
Anonymous donated
1 year ago
$18.00
Anonymoud donated
1 year ago
$36.00
Anonymous donated
1 year ago
$18.00
Anonymous donated
1 year ago
$5.00
Steven Krasnopolsky donated
1 year ago
$5.00
Anonymous donated
1 year ago
$10.00
David Klein donated
1 year ago
$20.00
Anonymous donated
1 year ago
£8.00
Anonymous donated
1 year ago
$36.00
Harold Plonchak donated
1 year ago
$36.00
In memory of Leah Bas Tzvi Yitzchok Hakohein
Anonymous donated
1 year ago
£36.00
In honor of Simcha bunem ben Rochel l'refua shelema
Anonymous donated
1 year ago
$18.00
In honor of lea bas Kraindel lezivug hogoin bekoroiv ubeneikel
Anonymous donated
1 year ago
$10.00
In memory of dovid leib b'reb ephraim
Anonymous donated
1 year ago
$10.00
Anonymous donated
1 year ago
$72.00
Anonymous donated
1 year ago
$20.00
In honor of Moshiach
Anonymous donated
1 year ago
$50.00
Anonymous donated
1 year ago
£10.00
Anonymous donated
1 year ago
$10.00
In memory of Yaakov Ben Eliyahu. Dina Bas Naftali Yonah Hertz
Ian Levenfus donated
1 year ago
$108.00
In honor of Chaya bat Miriam
Michael Gordon donated
1 year ago
$5.00
Byrech Lehrer donated
1 year ago
$50.00
In honor of Leah Shaindel bas Yainkel
Anonymous donated
1 year ago
$18.00
In memory of Yaakov Ben Miriam
Anonymous donated
1 year ago
$18.00
Anonymous donated
1 year ago
$3.00
Shimshy donated
1 year ago
£10.00
KHOSROW KHORAMAIN donated
1 year ago
$36.00
Anonymous donated
1 year ago
$18.00
Anonymous donated
1 year ago
€4.00
In honor of HaRav Gad Allouche Shlita
Alexander Kotok donated
1 year ago
€20.00
In honor of Valentina bat Bathsheva
B.W donated
1 year ago
€20.00
Anonymous donated
1 year ago
$180.00
In memory of Baila bas Volf
Anonymous donated
1 year ago
$10.00
Anonymous donated
1 year ago
$18.00
Yossie Lipschitz donated
1 year ago
$18.00
In honor of Shevi Lipschitz
Anonymous donated
1 year ago
$50.00
Anonymous donated
1 year ago
$3.00
Tikvah Menter donated
1 year ago
$10.00
Anonymous donated
1 year ago
$2.00
Anonymous donated
1 year ago
$18.00
In honor of Naomi
Anonymous donated
1 year ago
$36.00
Anonymous donated
1 year ago
$54.00
Anonymous donated
1 year ago
$18.00
Anonymous donated
1 year ago
$18.00
Anonymous donated
1 year ago
$6.00
In honor of Chana bas Nechama Dina
Jana Huff donated
1 year ago
$72.00
In honor of Boys of Mavakshai Hashem in Boro Park, NY
Anonymous donated
1 year ago
$18.00
In memory of R' Dovid Yonah A"H ben yblcht"a R' Menachem Mendel haKohen Sheyichye Dubinsky
Anonymous donated
1 year ago
$26.00
In honor of chana bas chaya nesha
DVORA L FELBERMAN donated
1 year ago
$25.00
In honor of Yizkor R.Meir ben Chaya. Miriam bus Chantcha & All others
Anonymous donated
1 year ago
$10.00
Bb donated
1 year ago
$10.00
Anonymous donated
1 year ago
$10.00
Anonymous donated
1 year ago
$18.00
Gary Tolchinsky donated
1 year ago
$18.00
Shaindy Gottheil donated
1 year ago
$50.00
Anonymous donated
1 year ago
$135.00
In honor of Shaindel bas Shmuel
Michael Chakoff donated
1 year ago
$17.00
Jeffery Zucker donated
1 year ago
$5.00
Daniel Lazarus donated
1 year ago
$5.00
Anonymous donated
1 year ago
$18.00
Anonymous donated
1 year ago
$36.00
Anonymous donated
1 year ago
$100.00
Mordy Goode donated
1 year ago
$100.00
Anonymous donated
1 year ago
$180.00
Ira Leifer donated
1 year ago
$25.00
In honor of Eliyahu Leifer and Tehilla Leifer
Anonymous donated
1 year ago
$5.00
Anonymous donated
1 year ago
$72.00
Chaya Grossman donated
1 year ago
$5.00
Anonymous donated
1 year ago
$18.00
Anonymous donated
1 year ago
$10.00
In honor of Shidduchim for all those in need
Anonymous donated
1 year ago
$89.00
Andrew Bales donated
1 year ago
$36.00
+ See more

Free Fundraising for Jewish Causes
0% Commission
Easy 3 Minute Set Up
24/6 Customer Service
Start Your Campaign Now
0% Commission
Easy 3 Minute Set Up
24/6 Customer Service